Principal's Desk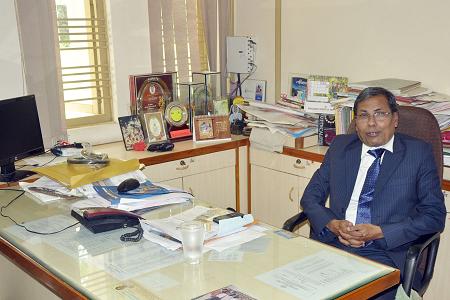 Welcome to the Manoharbhai Patel Institute of Pharmacy (D.Pharm.) Gondia. [MIDP]
Before you view other information about the Institute, let me provide you with some background information. Manoharbhai Patel  Institute of Pharmacy (D.Pharm) Gondia was established in the year 1997.It is considered as one of the Premier Institute.We have a dedicated faculty and staff who are committed to provide an outstanding educational experience to the students. They are steadfast in their dedication in budding intellectual and successful pharmacists into metamorphosing. 
As you explore our Web Site, I believe you will find many challenging and exciting information about this course. MIDP is a dynamic, contemporary, and responsive institute which hosts Diploma in Pharmacy program and is run by Gondia Education Society with the affiliation to MSBTE ,Mumbai, DTE Mumbai, Government of Maharashtra,Mumbai & approved by Pharmacy Council of India (New Delhi) and AICTE (New Delhi).
All programs in MIDP undergo constant review and evaluation by the faculty to keep pace with a rapidly changing educational  environment. Use of technology is viewed as a critical tool to support effective teaching. With fast changing socia economic scenario and technological development, conventional and traditional method in most of the fields are getting replaced. The devine almighty created this beautiful world in which we have varied flora and fauna to enjoy them but nothing is more wonderful than man and his mind. With the help of mind, its intellectual capacity man has been trying to gain happiness. Therefore, all programs emphasize the relationship between technology as a tool for teaching and learning as well as the application of technology to all fields of study.
About the city: Gondia is popularly known as the "Rice bowl" because of its yields of enormous paddy crops as well as for having 120 Rice Mills. It catches attention of nature lovers for its charming places of tourist importance such as Nagzira Wild Life Sanctuary, Navegaon National Park and the world famous "Kanha–Kisli Reserved Forest (Wild Life Santuary) is about 100 Kms away from the city. Gondia is a district place and well connected to all the four Metros directly via Mumbai–Howrah, Howrah-Chennai, Bilaspur-Amritsar by rail route. It is 130 kms from Nagpur towards Howrah (Kolkata) Route.
Thanks for checking us out!
Back to top